The Day After (10 April 2006 - 12:19 p.m.)
Iím surprised no one mentioned that the number one candle was positioned backwards on Leighís cake. I kept looking at it, thinking something wasnít right, but couldnít quite put my finger on what was wrong. Oddly enough, my dyslexic brother is the one that pointed the problem out to me.
The birthday celebration went well, but it was an exhausting day. I was cleaning up after the ďpartyĒ until midnight, which is waaaaaaay past my bedtime. The excitement was too much for Ace, too.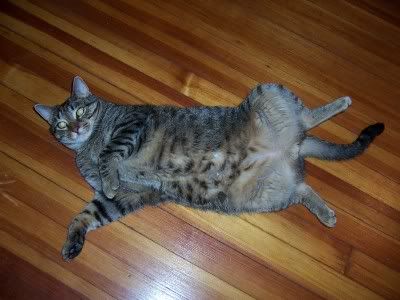 The birthday girl was happy, though, especially when her boyfriend gave her an ipod. Thatís her boyfriendís sister on the left, by the way. Sis also just happens to be Leighís best friend.

As always, there were a couple of tense moments, courtesy of my very conservative father. He suffers from chronic assholitis, and is not capable of discussing politics without causing some kind of scene. Ugh.
It looks like Iíll be pretty busy over spring break. Tomorrow morning I have an appointment with the neurologist, and Rebecca has an appointment with her dermatologist in the afternoon.
On Wednesday, the coronation ceremonies will begin. Yes, Iím getting a crown. Front left upper tooth. Oh joy.
Iíll be going for a massage on Saturday. [Insert sigh of pleasure here] On Sunday, the usual suspects will line up in my house once again, this time for Easter dinner. Today, the girls and I are thinking about heading over to the outlets at Woodbury Commons, so Iíd better get a move on.
Song of the Day: The Partyís Over by Nat King Cole

10 comments so far