Ocean State (23 July 2006 - 11:07 a.m.)
When I left for Rhode Island in the middle of last week, the heat was oppressive in New York. Temperatures were much cooler at the RI seashore - even when it wasn't raining. Sadly, the weather wasn't very accommodating during my mini-vacation – the only vacation I've had in two years, and a vacation I was very much looking forward to.
I LOVE the seashore, and often find myself craving the sights, sounds and smells of the ocean. Even though it was cloudy and cool, and rained sporadically, we did make it to the beach a few times. In fact, it was the first place we headed upon our arrival Wednesday night.
We went back for a couple of hours on Thursday, and the ocean was really something to see. Because of the tropical storm that had been brewing, the surf was really wild – a truly spectacular sight. We later heard that waves were reaching heights of 13-14 feet! Unfortunately, I forgot to bring my camera that day.
I did, however, remember to take it with me when we went to do some fishing at the Charlestown Breachway the following evening. What a gorgeous spot.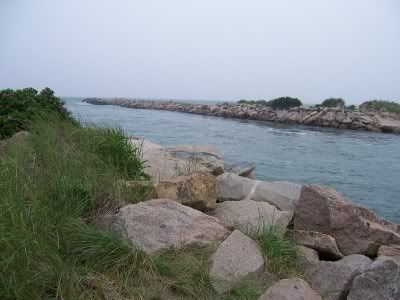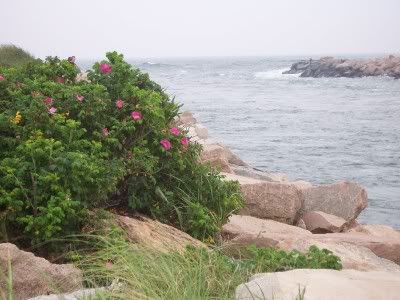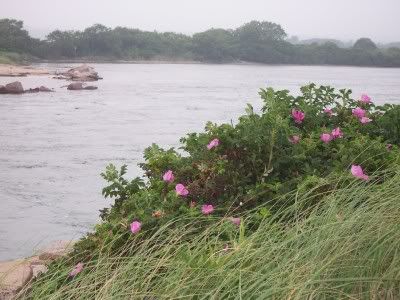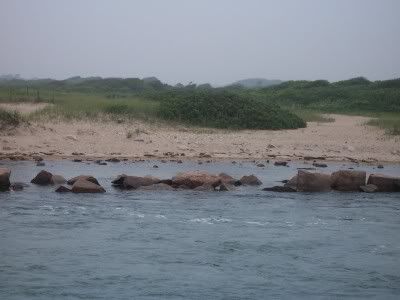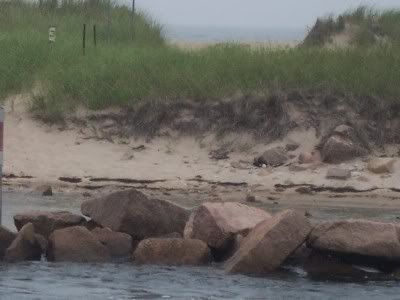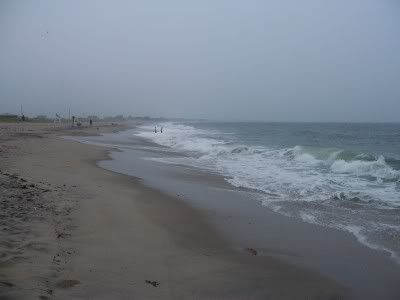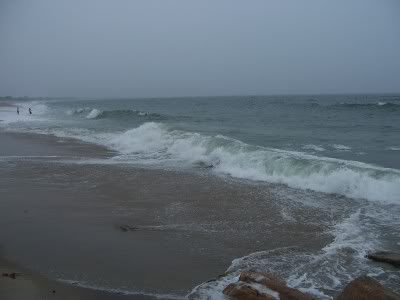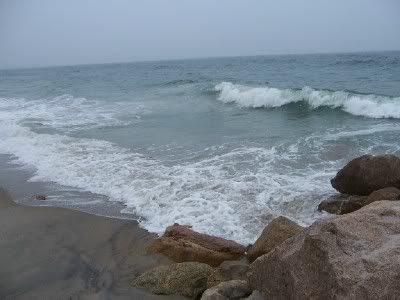 We walked out to the end of one of the stone jetties and cast our lines into the darker areas of the water, which indicated schools of fish that further gave themselves away by leaping into the air fairly frequently. Rebecca and Mike caught a few bluefish, and a couple of other people pulled in twenty pounders. A boy had the catch of the day with a 39-inch striper. I didn't catch anything, but that's okay. I was just very glad to be there.

On Thursday evening, we had dinner at Paddy's Beach Restaurant, where we enjoyed the ocean view, along with surf and turf (lobster and melt-in-your-mouth steak), and outrageously priced specialty drinks. (You get to keep whatever the drinks are served in - this, for example.) We had such a good time, we decided to go back on Friday, but our dining experience was not nearly as pleasant the second time around.
For one thing, the waitress dropped my "Strawberry Kiss," and most of it went all over Leigh's boyfriend. It was so bad that he had to go back to the place we were renting to change his shirt and shorts. A piece of the shattered hurricane glass the drink came in hit Leigh in the face, narrowly missing her eye. When we were leaving, Rebecca stepped on another piece of glass. Thankfully, it did not pierce her flip-flops.
The food was disappointing, too, especially the steak that Rebecca ordered medium, but arrived rare. One piece in particular was so bloody, we couldn't cut it. We mentioned it to the waitress when she came over to ask how everything was, and even showed her the bloody piece. She agreed that it was pretty rare (almost raw, actually), but didn't offer to take it back to the kitchen. Since most of the steak was edible, we let it go, but regretted that we hadn't chosen another restaurant for our last night in Rhode Island.
We were expecting to at least get a free drink out of the evening, especially after the shattered hurricane glass and strawberry saturation incident, but the bill showed that no such courtesy had been applied. I am going to write to the owner, and will be interested to see what kind of response I'll get, if any.
We were supposed to be out of the rental place by 11:00 a.m. on Saturday, and had to get up early to clean the three bedroom unit before our departure. After that, we had breakfast at a small restaurant on the beach, and then headed over to Misquamicut State Beach, but that excursion was cut short when it started to rain.
Still, it was good to get away, despite the bad weather. I just hope that the next time I go on vacation, it will be for a longer period of time. More sunshine would be nice, too. Sunshine on my shoulder really DOES make me happy!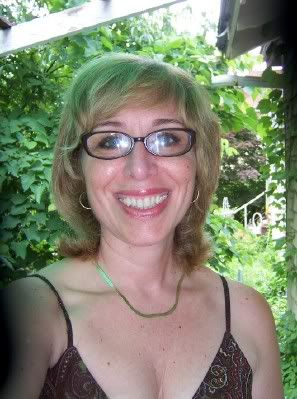 Song of the Day: By the Beautiful Sea from For Me and My Gal

11 comments so far