Sunset Sensations (09 September 2006 - 10:11 a.m.)
Thursday evening, my mother and I went to Locust Grove, the historic house museum and former home of Samuel FB Morse, artist and inventor of the telegraph. We went for a special event, "Sunset Sensations: A Unique Wine & Food Sampling."
The event featured horticulturist guided tours of the heirloom vegetable garden, wine pairing presentations, and food demonstrations (using vegetables from the garden) by a master chef from The Culinary Institute of America.
Upon our arrival, we were greeted with a glass of the best iced tea I've ever had. The first demo took place by the vegetable garden. The chef prepared a delicious cream of tomato soup, paired with Muja Rioja Blanco 2005, a very nice wine. The second demo was presented by the flower garden. (The dahlias were magnificent!) The chef prepared fresh mozzarella, which we sampled with slices of heirloom tomatoes, drizzled with extra virgin olive oil. This dish was paired with Selva Del Moro Chianti Classico 2001. The third demo took place near the mansion, and featured melon kabobs, paired with Quady Electra 2004. I didn't care for that wine at all. It was much too sweet, and had a medicinal taste.
The grounds at Locust Grove are really lovely. This is a shot of rolling hills that lead to a small lake, and beyond that, the Hudson River. (The hills are much steeper than they look in this pic, and the photo is dark because it was almost sunset.)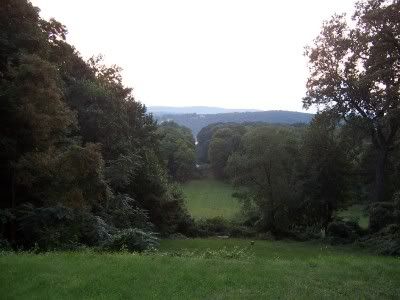 Here's a side shot of the mansion.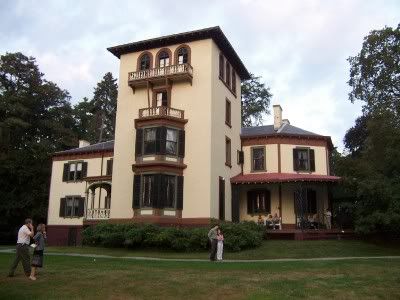 This event is a wonderful idea, but needs some improvement. For one thing, there weren't nearly enough chairs, and most people had to stand. Many of these people were elderly, and three hours is a long time to be on your feet. My back was killing me by the time we left. They also need more servers. Many of us missed the garden tour because we had to wait so long to be served our portion of the fresh mozzarella and heirloom tomato salad. Still, it was a lovely evening, and I would definitely go back and do it again.
Song of the Day: Sunrise Sunset by Bright Eyes

7 comments so far