Strife (26 October 2006 - 10:43 a.m.)
I talked to my union president yesterday morning, and she spoke to a couple of people at the school district's administration offices. They told her that they have never had a situation like this before (leave it to me to be the first), but I should do what I need to do this week (in other words, take sick days), and no one is going to question me.
The way things have been going, I might be better off at work. Yesterday was a trip and a half. All hell broke loose after this article appeared in yesterday's paper. (I am posting it here, and removing last names and locations to protect the identities of family members. I will also use first names where the reporter used last names.)
Duck hunter from […] missing
A […] man has not been seen since Friday, when he went duck hunting on the Hudson River.
Mark P's boat was found Saturday on the […] County shore of the river, but there was no sign of Mark, police said on Tuesday.
P's sister, Stephanie B of [...] said Mark enjoyed hunting and fishing and had built a duck blind - a camouflaged hunting spot raised on stilts in the water -along the […] County side of the river.
Stephanie said Mark, 39, usually took his boat, which he docks in […], to the blind and hunted from there.
"He typically spends a fair amount of time hunting, but this particular evening, we have reason to believe he didn't expect to be out long because he was supposed to pick his fiancée's daughter up at 6 p.m. and never showed up," Stephanie said.
When Mark failed to show up for a scheduled hunting outing Saturday morning, friends became worried and began looking for him. A missing-person report was filed with the […] County Sheriff's Office on Saturday, and sheriff's divers from both […] and […] counties began a search.
Mark boat was found on the east shore of the Hudson River with no one inside, police said. They said Mark apparently had gone hunting in the area of […] Landing in the […] County town of […].
"He just purchased a boat about two months ago, and he spent weeks painting and repainting it to get the camouflage just perfect," said Mark's fiancée, Tamica H. "It was typical for him to get up first thing in the morning and go hunting."
State forest rangers have assisted deputies in searching the wooded area near the river for Mark, who is 5-foot-10 with brown hair. State police and Coast Guard aviation units have conducted aerial searches.
"As each day passes, the hope diminishes, and it's been so long since Friday, and we're just desperate for word now," Stephanie said. "We need him to be found. We need some closure. We need to find him."
Tamica, who lives in […], said Mark treated her 11-year-old daughter, Faelin, like his own.
"Mark has been like a father to her since she was 2 years old. She calls him daddy," Tamica said. "She's actually been clinging to her favorite photograph (of Mark) since Saturday. She doesn't let it out of her sight."
Mark and his identical twin, Michael P of […], are the youngest among the family's siblings. The others, in addition to Stephanie, are Michele C of […], Patricia P of […] and Frank P Jr. of […]Mark's parents, Ann and Frank, live in […]. Mark's daughter, Meaghan P, 21, lives with her daughter in […].
Tamica said Mark is a carpenter who has worked at […] for about 15 years.
"All the clients loved Mark because he was very meticulous about his work - very exact and honest," Tamica said. "He was honestly the most outgoing and selfless person I've ever met in my entire life - honest, caring and generous."
Tamica and Mark have been together for nine years and got engaged on Christmas Day in 2004, she said.
"He was the kind of person people were drawn to - full of jokes, no matter how bad they were," Tamica said. "We're all kind of in a state of shock until we can have something more concrete than just hope. We're all clinging to hope."
Anyone with information about Mark's whereabouts should call the […] County Sheriff's Office at […] or the […] County Sheriff's Office at […].
This photo accompanied the article.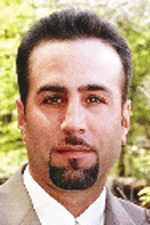 First thing in the morning, I got a call from Meaghan's mother. She was in a fury (not directed at me) because Tamica and Faelin had been so heavily featured in the article, while Meaghan was barely mentioned. I explained to her that Tamica had been standing right next to me to me while the telephone interview was being conducted, and, when I asked her (Tamica) a question, the reporter asked if she could speak to her. The things Tamica said about Mark were heartwarming, and we were pleased with the article. There was no intended slight against Meaghan. It's just that she wasn't present for the interview.
I should mention that I did do some behind the scenes damage control before the article was published. The reporter asked Tamica to email a photo, and the one she submitted included her and Faelin. I knew Meaghan would be devastated if she saw that when she opened the paper, so I emailed the reporter and explained that to her. The photo was cropped to show just Mark.
My mother and I went to spend some time with Meaghan yesterday afternoon. Her mother was there. She and I have always had a close relationship, and she told me that talking to me made both her and Meaghan feel better. I told her that I understand that protective maternal instinct.
We are all under an enormous amount of pressure and stress right now, and we are all human. We have to cut each other a little slack. However, most important of all, we have to remember that the main issue here is that Mark is missing and most likely dead, as painful as that is for me to admit. We have to try to be strong for each other, and try to put everything else aside, at least until he is found and buried or cremated.
On the way home, I got a call from my sister, Michele, informing me that she was contacted at work by the newspaper advising her that they received an irate call from Meaghan's mother, who told them that there were a couple of discrepancies in their article, one of which was the fact that Tamica was not Mark's fiancée.
I was floored.
When I got home, Meaghan's mother called to tell me that she and Meaghan had been in touch with another local newspaper, so Meaghan could have her say. She asked me to email a photo of Mark to the paper. While I had her on the phone, I asked why she had neglected to tell me about what she had done. I told her she had left me with a pretty big mess to clean up. She was very apologetic, and admitted that she had acted in anger against Tamica. But Tamica didn't have to deal with the repercussions. I did.
I had to call the paper to verify that Tamica is Mark's fiancée. They had only been broken up for two weeks, after having been together for nine years. There was a good chance that they would have gotten back together. Mark would have wanted Tamica included in the article. My family had agreed that Tamica would be referred to as his fiancée. (She's still wearing the engagement ring.) I can't believe I have to deal with such petty crap at a time like this. I am already emotionally and physically drained as it is. I don't need this.
Anyway, here's the other article. It's in today's paper.
Searches are still ongoing for missing duck hunter
The family of a […] man is holding out hope he'll turn up after he went missing while hunting along the Hudson River on Friday.
Mark P, 39, described by family members as an avid hunter and outdoorsman, was reported missing Saturday. Family and friends knew something was wrong when Mark didn't show to pick up his stepdaughter Friday evening, and his hunting buddies went to his home on Saturday morning for a scheduled outing and couldn't find him.
They tracked Mark, who has family in […], to the last place he was known to have gone — […] Landing on the Hudson River near […] — and found Mark's duck blind with his gun still inside, his boat out of gas and several ducks that had been cleaned and left on the boat.
Mark's truck was nearby, but there was no sign of the […] man, leaving his family frustrated and fearing the worst.
"We just don't know, and that's the hard part for everybody," said Kimberly W, the mother of Mark's 21-year-old daughter, Meaghan P. "It's killing the whole family."
Meaghan said she has "a million questions and no answers."
Her boyfriend organized a search party Sunday, and Meaghan joined them for another search Tuesday night. The efforts are in addition to search operations being led by the […] County Sheriff's Office.
Mark was a regular duck hunter, and was particularly excited to hunt during the rainy weather late last week because it would be easier to find prey, Kimberly said.
"We don't understand how someone who has been doing this for so long just could. ..." Meaghan said before trailing off. "That's what makes it so confusing."
The family is holding out hope that Mark is still alive, and someone will contact police saying they've seen him. But they also know, with police divers scouring the Hudson River, he could have died in the cold weather or the river's waters.
Sheriff's deputies, state forest rangers, a Coast Guard boat and a state police helicopter have been utilized in the search, as well as firefighters and police from […].
Lt. James A of the […] County Sheriff's Office said the investigation is ongoing, and his office is working with the […] County Sheriff's Office.
"We've been searching daily by water, land and air," A said. "We're still looking."
This photo accompanied the article: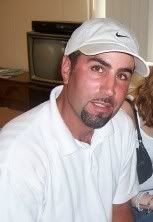 I don't understand that thing about the Coast Guard boat. To my knowledge, that has not yet appeared on the scene, which is one of my complaints. They keep telling us they're going to bring in a sonar boat from the coast guard, but it has not yet been employed in the search, as far as I know...
Meaghan called a little while ago to tell me about a dream she had last night. She said it was the most vivid dream she ever had in her life. It felt like her upper body was being lifted up, and the life was being pulled out of her. She couldn't breathe, and just barely managed to choke out the words, "Okay, dad, okay dad." She's been asking her father for a sign, and wonders if this is his way of trying to show her what happened to him…
I can't stand it.

15 comments so far