Treading Water (12 January 2007 - 3:42 p.m.)
For the most part, I've been managing to keep my head above water, but there are days when I find myself sinking. The early days of 2007 were particularly difficult because I was crushed by the knowledge that this is the first year since 1967 that Mark won't be a physical presence in my life. I'm having a really hard time dealing with that.
I've been looking around for something special in which to store Mark's ashes. Recently, his identical twin, Michael, mentioned that he knows someone who has a duck cremation urn. (Ducks are significant to Mark. In fact, in lieu of flowers we asked that people make donations to Ducks Unlimited, an organization that works to save wetlands.) Unfortunately, I can't afford those prices.
So, I headed over to ebay, and found this: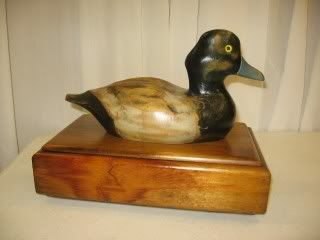 It's a wood duck decoy carved by Ron Fisher in 1980, and mounted on a keepsake box. The item was offered as "Buy it Now" or "Make an offer." I made an offer for a lot less than the "Buy it Now" price, and it was accepted.
I found another one, carved by the same craftsman, offered in a regular auction. At present, the price is even lower than what I paid for the first one. So, I placed a bid on this one, too. (If I win the auction, I'm thinking about giving it to Michael.)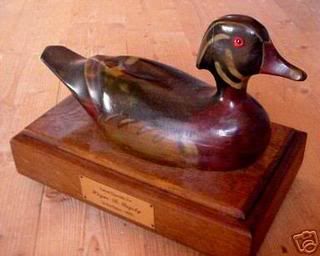 In other news, I was sitting at the computer this morning, when I heard a strange noise coming from the basement. It was the furnace. I went down to investigate, but everything looked fine, and the noise stopped. After determining that we were still getting heat, I figured everything was okay.
However, when I got home from work, the furnace started making scary noises again. I went down and saw that the unit was chewing up the filter, and had spit a piece of it out. I had to turn the blasted thing off, and someone is coming over to take a look at it around 6:00.
I'm really depressed right now. And it's not even that cold in here yet. I'm sure my spirits will plunge even lower, along with the temperature in the house. I built a fire, and brought out an electric heater, but I know a deep chill is going to set in soon. I've been this route before. Too damn often.

Song of the Day: Some Like it Hot by Robert Palmer

8 comments so far