Love is in the Air (13 February 2007 - 6:55 a.m.)
Love, celebrity style*
IF SALVADOR DALI HAD PAINTED BRANGELINA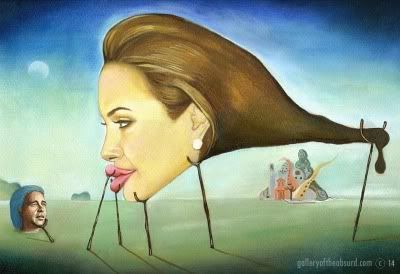 ANGELINAíS BOY TOY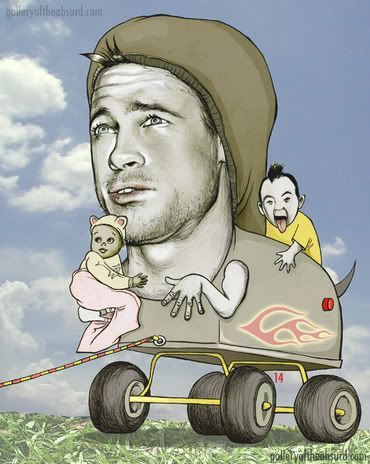 Brad Pitt has gone from sexiest man alive to subservient, pitiful yes-man who does whatever his girlfriend says. Ever since he met Angelina, he seems to have completely forgotten his self-identity. Don't believe us? Consider the following:
Angelina wears dark clothes, and what do you know.....Brad has started wearing dark clothes.
Angelina is a pilot....and SURPRISE! Brad wants to be a pilot.
Angelina is a Goodwill Ambassador, now Brad wants to be a Goodwill Ambassador.
AND.... the most obvious example of Brad's spineless metamorphosis can be observed in how Angelina grabs his hand and leads the way at each and every photo op. Brad is a pull toy, a handsome man on wheels who tends and entertains the kids while Angelina dazzles.
Curious about the shiny red button on the Pull Toy's back? Press it and Pull Toy happily responds:
"Yes dear."
"Whatever makes you happy, dear."
"I agree with you dear, excellent idea."
"Whatever you say dear."
This painting is dedicated to Jennifer Aniston. The tabloids claim you're still attached to Brad, but we hope you take one glance at this post and immediately forget him.

KIRSTEN DUNST HAS FOUND TRUE LOVE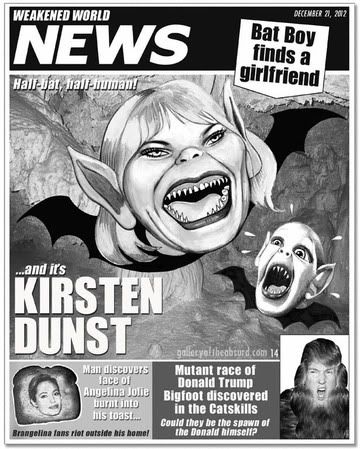 If Kirsten and Batboy get married, the honeymoon suite in my attic is available.

Celebrity Valentines*

SIGN ON THE DOTTED LINE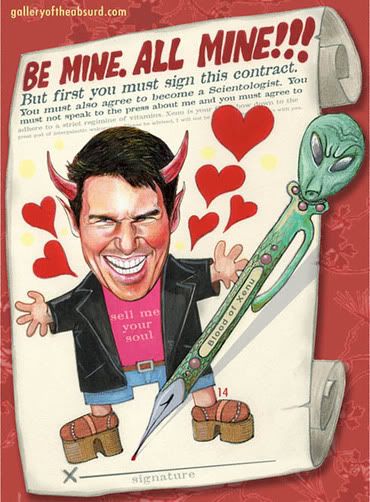 Nothing says LOVE like signing a $5 million contract agreement to pose as a loving companion to a tiny man with a very large ego. This nasty little rumor was reported on page six and in the New York Daily News, but of course we know it can't be true. Obviously Tom Cruise and Katie Holmes are madly in love and show their affection and devotion to each other every time they make a public appearance. When I think of LOVE, the first romantic vision that flutters into my head is Tom and Katie with their gushing big grins and persistent public declarations of love. Sigh.

A VALENTINE MESSAGE FROM GEORGE BUSH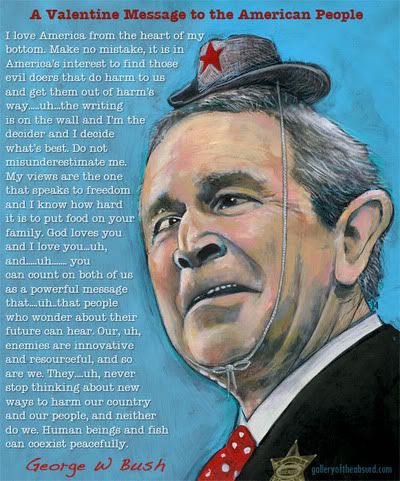 The White House is sending out Valentines this year and we've got the exclusive preview. As you can see here, President George Bush sends a rambling message of love to the American people in an attempt to boost his approval ratings.

TRUMPíS SUPER PREMIUM VALENTINE HATE CANDY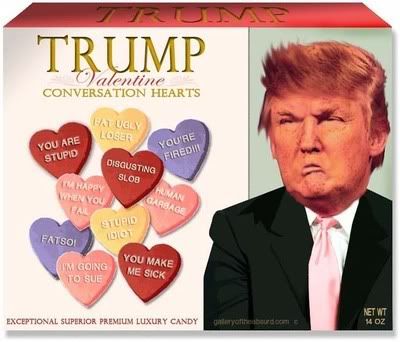 Says Trump:
"Trump super premium luxury Valentine candies are a big idea. Everyone knows the Trump brand is the most recognizable and valued global trademark in existence today. When people see the Trump name, they know they're buying the unrivalled cache that only Trump can provide. These superior candies are crafted from the world's finest ingredients and will rapidly evolve into the unquestioned preference of uncompromising consumers. Trump Valentine Conversation Hearts will outsell all other candies in the Valentine consumables category and if you don't agree, you're a big fat ugly loser idiot with a fat disgusting head and I will take great pleasure in witnessing your public humiliation and failure."

WE'LL ALWAYS HAVE PARIS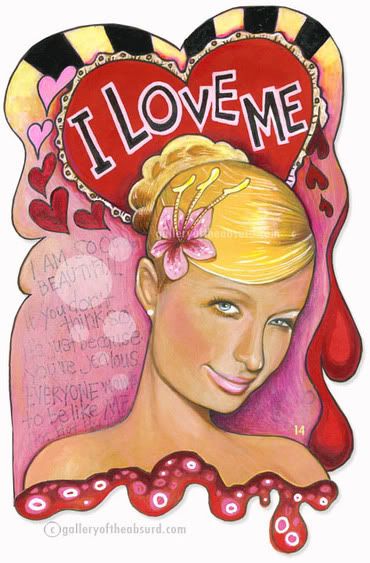 If you've got no one to LOVE on Valentine's Day, no worries. You can be like Paris Hilton and LOVE yourself. Anyone that doesn't agree with your inflated assessment of your astounding beauty, talent and accomplishment is just jealous. You are the American dream, the perfect blonde Barbie doll, and everyone wishes they were just like you.

*These and other images can be found here.
Song of the Day: Love is In the Air by Tom Jones

7 comments so far