Marvin K. Mooney, Will You Please Go Now! (09 March 2007 - 4:34 p.m.)
The Marvin K. Mooney referenced in the title of this entry is a Dr. Seuss character who "is asked to leave in many ways." For me, Marvin K. Mooney represents all the bureaucratic bullshit I've been dealing with related to the Worker's Comp claim. I just want it all to go away – now!
Here's the latest. Last Thursday, I spoke to the woman in charge of Worker's Comp for our school district. She told me that I had 7.5 sick days left, and I wouldn't be receiving any more paychecks after those days were used up. I asked about the sick bank. (I've been contributing days to the sick bank for seventeen years, and this is the first time I've needed to "make a withdrawal.") She advised me to call my union president to find out about that.
I called my union president at work, but she did not return my call. I called her again on Tuesday, at home this time, and left an urgent message on her answering machine. She finally called me back that evening, and gave me the name of the woman in charge of sick bank. She also said she would call the woman herself and explain what was going on.
I spoke to the sick bank woman yesterday. What she said did not make me happy. Apparently, I was in danger of not being eligible for sick bank coverage because I might not meet the condition of having 5 regular sick days left. First of all, I was not aware of that condition. Secondly, if it was determined that I was not eligible, it would have been for reasons beyond my control.
I had 7.5 days left when I started this ball rolling. I cannot force people to return my calls, although I would have been more aggressive if I had known about this condition. I expressed my displeasure, and Ms. Sick Bank said she would call the business office the following morning to find out exactly where we stood.
Ms. SB called this morning to say she had good news and bad. The good news was that, because she and I communicated yesterday, I had just made it under the wire to satisfy the sick bank requirements. The bad news was that the business office was claiming that they had not yet received a note from my doctor saying I am not able to work.
I couldn't believe my ears when I heard that. The aforementioned note was hand delivered by me last Friday (after I went to a great deal of trouble to get it!). I am SO sick of getting the run around. Fortunately, a relatively simple call to the business office got that situation straightened out.
Other good news – the Worker's Comp Insurance Company has authorized the MRI and physical therapy. The MRI is scheduled for Monday. As for the PT - they only approved 15 out of the 36 sessions my doctor recommended, but that suits me just fine. Getting to physical therapy three times a week presents a real problem for me, so it's just as well that I only have to do it for five weeks, as opposed to twelve.
All the stress I've been under melted away during my delightful get-together with LA earlier today. We went to a local "goddess" shop, where I did something I've always wanted to do – I got a deck of Tarot cards. I've had a few readings done by other people, but today was my very first attempt to do it myself. I was really just fiddling around, and was therefore greatly surprised by the results. All I can say is WOW! Another interesting fact is that the cards were made in W*******, California. My eyes nearly popped out of my head when I saw that because W******* was my last name before I re-married! Yep, this is supposed to be my deck, all right.
LA and I ended our afternoon together with a nice, leisurely lunch at a nearby restaurant. We shared our meals so that each of us got to sample a crab cake and half of a portobello mushroom sandwich. I love spending time with this woman. Being in her company is such a joy.
I have to tell you about her buttery soft, cream-colored leather jacket. My God, does she wear it well. Honestly, that jacket was MADE for her. She looks absolutely stunning in it. (Well, she is stunning without it, too, but you know what I mean.) As is always the case whenever LA and I get together, I'll be looking forward to the next time.
My afternoon was topped off nicely when I opened a package that came in today's mail. You might not consider this to be anything to get excited about, but I am a huge Dr. Seuss fan, and these mugs make me smile.

On the bottom of this mug, it says, "Do you like green eggs and ham?"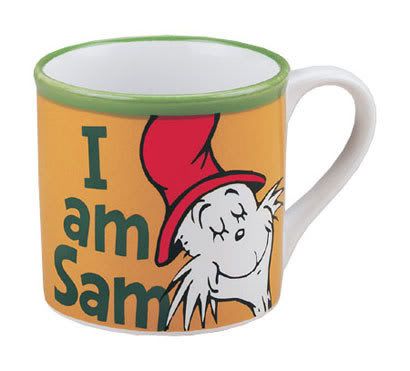 I'm feeling pretty pooped, so I think I'll take my cue from Ellie and Penny, and get some rest.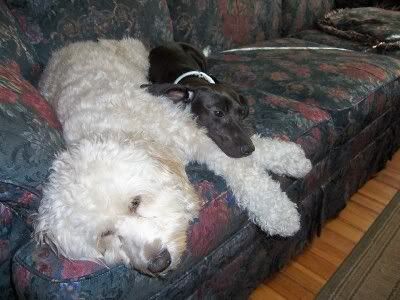 Song of the Day: Cat in the Hat by Marilyn Manson

13 comments so far