Fan Fare (03 June 2007 - 11:19 a.m.)
It is no secret that I'm not a tv watcher. I've made mention of that fact many times. I have also admitted that the only show I DO like to watch is General Hospital. I've been tuning in to that program off and on for many years now.
Several months ago, a new character was introduced - Damian Spinelli, played by the talented actor, Bradford Anderson. Although the initial reaction to this character seemed to be mostly negative, he hit a homerun with me right off the bat. To his credit, Bradford Anderson quickly won over the rest of the audience, and his well-deserved popularity has been growing by leaps and bounds.
After meeting Bradford Anderson at his very first solo fan event at The Marriott in NYC yesterday, I not only have great respect and appreciation for him as an actor, but as a person, as well. This young man is energetic, charming, funny, adorable, and friendly.
At one point, I spoke to his mother (I remarked to her that I have the same shirt she was wearing), and she told me that Bradford is a genuinely nice person. His friendliness is not just an act; it's the real thing. I believe her. Bradford was exceptionally gracious.
After a question and answer session (during which I asked about the role Billy Dee Williams will play on the GH spin-off, "Night Shift"), Bradford went around to each table. He spoke to and posed with every single person. When I thanked him, he said, "No, no. It's my pleasure. Thank YOU!" His kindness and sincerity bowled me over.
This kind of thing is not something I would normally do. Back in the day, I would have moved mountains to meet certain rock stars, but, at present, I can't think of any celebrity I would go to any great lengths to meet. Well, okay, maybe Antonio Banderas, but that's it.
I don't know what exactly it is about Bradford Anderson, but he's made quite an impression on me. So, when I heard about the event at the Marriott, I posted a comment on his MySpace page saying I'd love to attend, but didn't want to go alone. Shortly afterwards, I received a response from a young woman in Rhode Island. Allison wrote to say that she and her mother would be attending the event, and I was welcome to join them. This generous offer blew me away.
I made the decision to go, and convinced my daughter, Rebecca, to accompany me. There were a few hassles along the way (in reference to incorrect information in my confirmation letter). Allison was always there to offer support and encouragement. I am so grateful to her for that, and I was thrilled for her when Bradford walked into the room, spotted her immediately and said, "Hi, Allison!" (He recognized her from My Space.)
Luckily, Rebecca and I were seated with Allison and her mom. They're both terrific people, and there's no one in that room with whom I would rather have shared this wonderful experience.
Once again, I have been blessed, courtesy of the Internet. Thank you, Allison, and thank you, Bradford.
P.S. We also got to see "Renee Goldsberry" (Evangeline from One Life to Live) as she was leaving the event that preceded Bradford's. She's even more beautiful in person.
Here's a shot of me with the lovely Allison.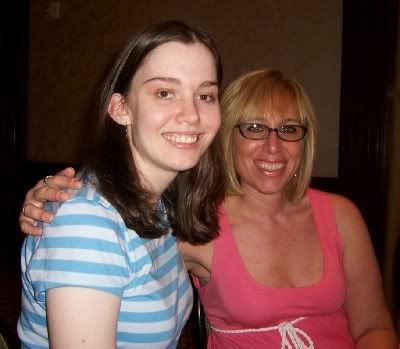 Allison and Bradford.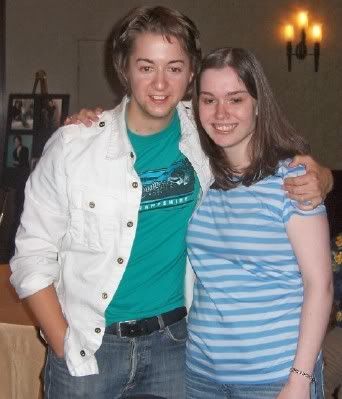 Bradford and Rebecca.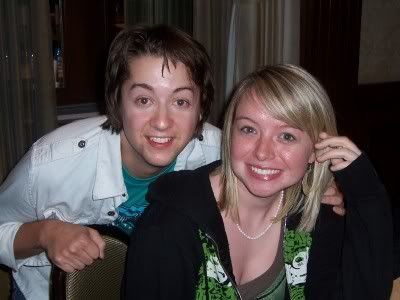 Bradford and me.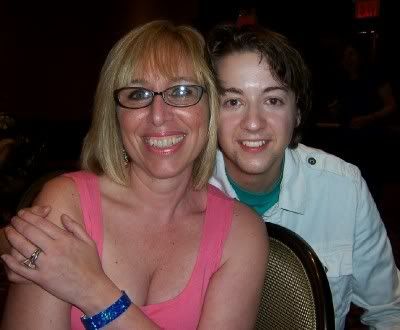 Isn't he the cutest?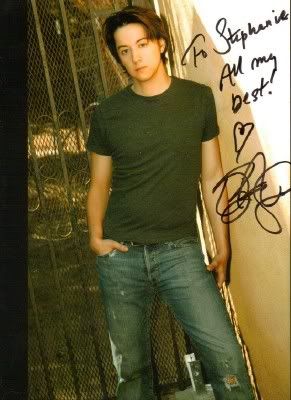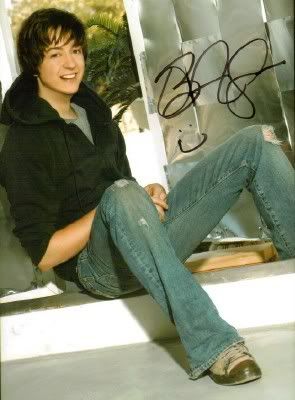 Song of the Day: "General Hospi-Tale" by Afternoon Delights

10 comments so far