Ringing in the New Year... or Not (01 January 2007 - 9:59 a.m.)
I fell asleep around 11:00 last night. Thatís later than I usually manage to remain awake on New Yearís Eve. The last time I stayed up until midnight on December 31st was when I went to Toronto a couple of years ago. That was enjoyable, but, for the most part, New Yearís Eve means very little to me.
That said, there were two New Yearís Eves that stand out in my mind as truly special occasions, when I really got into the spirit of the celebration. Way back when I was in my mid-twenties, I went to Times Square with a few friends and family members. It was bitterly cold, and we were fortunate to find a pub-style bar close to the One Times Square building. We met a lot of people, some of whom we stayed in touch with for a while. It was like a big party. At midnight, we all went outside to watch the ball drop. A good time was had by all.
The other memorable New Yearís Eve was the best ever. It was December 31, 1980, and I saw Bruce Springsteen in concert at Nassau Coliseum on Long Island. ďWith a set list 38 songs strong, it is one of the longest Springsteen shows of all time and also often regarded as one of the best."
I know this poster says December 29, but it's the closest date I could find. (Check out the ticket price!)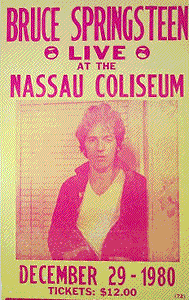 The following excerpt is from an article I found online:
At 11:58 p.m., having already been on stage for three hours, the singer and his E Street Band played "In the Midnight Hour," followed by a staid take on "Auld Lang Syne." As the crowd cheered the dead-on Lombardo impersonation, Mr. Springsteen launched into a rocking version of "Auld Lang Syne," which morphed into one of his most exhilarating epics, "Rosalita (Come Out Tonight)."
That song builds to the moment when the narrator addresses Rosalita's disapproving father: "Tell him this is his last chance/ to get his daughter in a fine romance/ 'Cause a record company, Rosie, just gave me a big advance!" For New Year's, Mr. Springsteen altered his famous line, and sang: ". . . and you can tell him, baby, I ain't no bum/ because me and you, we're gonna make it/ in NINE-TEEN-EIGHTY-ONE!"
The crowd's roar made it clear: Mr. Springsteen was articulating the aspirations of everyone in the arena. They all hoped to make it in 1981. "Strangers were hugging, and there was just this great sense of community," recalls David Finger, who was there and is now a 48-year-old attorney in Wilmington, Del. "No New Year's since then has been as joyous for me." (The same is true for me. I was on a high for days after that concert.)
Before ending at 1:06 a.m., Mr. Springsteen crashed through "Born to Run," "Twist and Shout" and more. He told the crowd: "Here it is, 1981. It's lookin' good!" Sure, there were 364 days and 23 hours to go, but at that point, 1981 was actually looking 100 times better than good.
I wish I could say the same for 2007. Letís hope itís a good one, or, at least not another bad one.

12 comments so far