Happiness is a Warm iPod (23 January 2007 - 6:08 p.m.)
Iíve got one of my ďscary headaches," and feel like crap. However, I donít want to dwell on that right now. I'd prefer to concentrate on happier thoughts, so, in an attempt to accentuate the positive, Iíd like to mention a couple of things that have made me feel good recently. One had to do with winning an ebay auction for this duck box to hold Markís ashes. (Iím going to give Michael the other one I have.)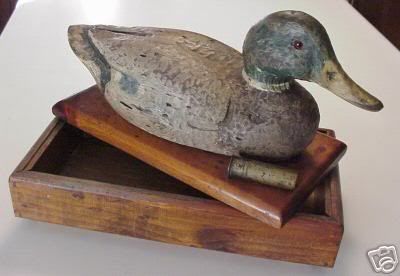 Winning the auction isnít what made me feel good, though. It was the email I got from the seller after the auction ended. He wrote:
ďYou have bought a very good item. My sister gave this to me on my fortieth birthday. Iím a retired firefighter. We have no one to leave our things to, so Iím selling it. Everything you see from me is something that I have that I think somebody may want. After my wife and I are gone, we donít want it just put in the garbage. I loved this box, but you know what I have to do. Thanks.Ē
I wrote back to let him know about the precious contents that will be stored in the box, and he responded by offering his condolences on the loss of my brother. He went on to say that he is glad to know that one of his belongings will be put to such good use. This box will have an even more special meaning for me from now on.
The other thing that has been making me feel good is the iPod I received for Christmas. I have quite a variety of music on there, and itís fun to set the dial to ďshuffle.Ē That way, I never know whatís going to come up next on the play list. I feel myself smiling as the tunes jump from Michael Jacksonís Wanna Be Starting Something to Lotta Liviní to Do from Bye Bye Birdie to God Only Knows by The Beach Boys to Thunder Road by Bruce Springsteen to Al Greenís Letís Stay Together to Faint by Linkin Park to And I Am Telling You Iím Not Going by Jennifer Holliday, to Bobby Darinís Mack the Knife to Bohemian Rhapsody by Queen to Chances Are by Johnny Mathis to Day-O by Harry Belafonte to George Michaelís Father Figure to Landslide by Stevie Nicks, to Volare by Bobby Rydell, to Hero by Chad Kroeger and Josey Scott to I Wasnít Prepared by Eisley, to Luluís To Sir With Love to The Magnificent Seven by The Clash to Love Shack by The B 52s to This One Goes Out to the One I Love by R.E.M. to Moondance by Van Morrison to Aretha Franklinís Respect to Pearl Jamís Black to New York, New York by Frank Sinatra to Take Me to the River by The Talking Heads to Tangled Up in Blue by Bob Dylan to Sam Cookeís You Send Me to Exit Music (For A Film) by Radiohead to Dream a Little Dream of Me by The Mamas and the Papas to Passenger Seat by Death Cab For Cutie to What a Wonderful World by Louis Armstrong.
During bad pain days, itís nice to know that some things can still make me feel good.
Here I am plugged in (note the "earbuds").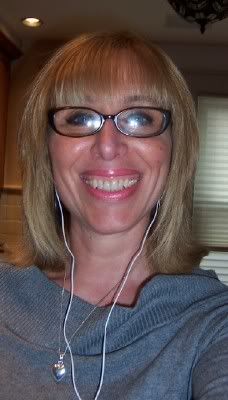 Song of the Day: Listen to the Music by The Doobie Brothers

66 comments so far